All job applications and interviews need you to first apply in writing, usually with a CV and an introductory letter. So, here are some tips to help you find the right words to express your skills and ambitions when writing about yourself.
Use the Power of Words When Writing About Yourself
We use words and language so much that most of us never really think about how important and powerful words really are.
Words tell other people what we want, who we are, what we are thinking and believe. We tell stories, relay facts, spread gossip and tell people that we love them, all with words.
And just the same as what we say and how we say it, written words give people a 'picture of who you are'. But we also use different language in different situations – we don't speak the same way at work as we do when we're chilling with friends (you don't call your boss 'dude' or 'sistah'!), and the same is true for writing.
So when you are applying for a job at a business, your writing needs to be business-like and not a letter to your best friend. Luckily, business-like doesn't have to mean lots of long, fancy words – clear, uncomplicated communication will get you noticed more quickly than a long essay.
Leave a Good Impression With Your Introduction
When sending out application letters, you might have to write a short email or fill in a section on the application form. ('Tell us a bit more about yourself' / 'Tell us why this job appeals to you.')
An 'introduction' should tell the person who you are and why you are contacting them. It should be short and give the overall details of your message. (don't repeat all the information in your CV!). The simplest is to pretend you are doing a job interview but writing it down, not speaking.
Start with a formal greeting like Dear Sir / Dear Mrs Arendse
First, introduce yourself with your name and one or two details, like any current job you have or important qualifications.
(eg: My name is Mary Sibanda and I am a recent NQF4 matriculant with Pure Maths and a one-year diploma in community care-giving.)
Then explain why you are writing to them and what you hope for.
(eg: I saw the job posting for a health-learnership position with your company, AllHealth, and wish to apply. Please find my CV attached. I have some qualifications in health care, and I am looking for a position where I can improve my formal training and experience towards becoming a qualified nursing sister.)
Finish by giving your contact details, (these are also on your CV, but worth repeating here), a brief 'thank-you' and a professional 'goodbye' greeting, like 'Kind regards' before signing off with your full name.
If you have to introduce yourself in an application form, fill in this section like the second paragraph (your name and details will be elsewhere on the form). You could also include a few personal details like any volunteer work or special skills you might have.
Hundreds of people may be applying for the job, so keep to the basic facts and clear language in your introduction – the person reading your mail will quickly get rid of any applications that don't sound business-like.
Use a CV to Tell the Prospective Employer More About Yourself
When you apply for a job, you usually have to 'introduce' yourself in some way, as well as send them your CV.
A CV, or resume, is a document that lists your academic and professional jobs and achievements. CV means 'Curriculum Vitae' and is Latin for 'course of life', and nearly all employers will want your CV when you apply for a job.
Your CV will grow through your working life as your career progresses, but your first CV will likely only list your life 'before work'.
Any company that is hiring school-leavers or younger people does NOT expect long CVs with lots of jobs, but they do want to see your academic achievements, awards you've earned, positions of authority you held (School Prefect), and relevant things you've done, like being involved in student organisations or volunteer work.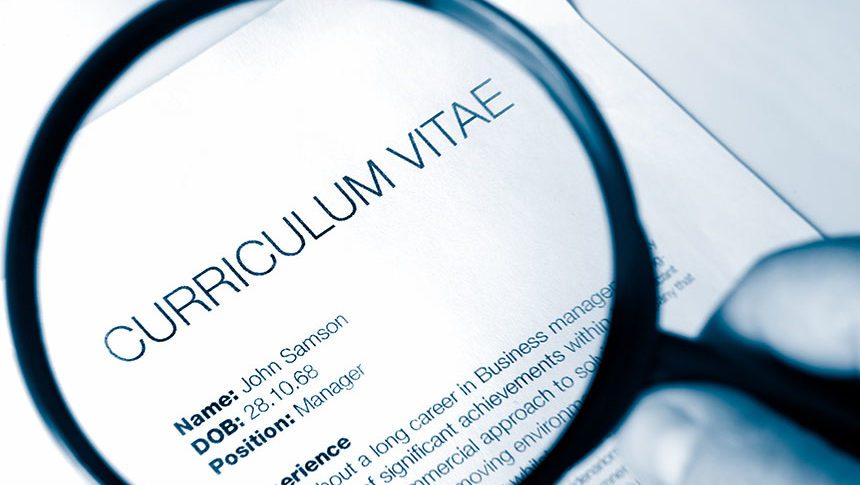 There are key elements all CVs must-have, no matter what they look like. A simple list with some basic headings in bold or underlined writing will serve for your first CV, or you can use a free online CV template to give it a bit of design.
There are 6 things that your CV should have:
Your full name (and any professional title you have)
All your contact details: postal and residential address, cellphone, landline, email
Your education history: where you studied, your subjects, and your NQF qualification.
Any work experience: whether you have a 'formal' job to list or not, include things like your charity work, part-time jobs or any special courses (Youth Leadership courses, for eg). If you do have previous work experience, list the job separately and include where you worked, how long you were there and your main job functions.
Your key skills: Apart from qualifications and experience, employers are also looking for people with life skills, or skills that aren't all about DOING the job, but with about HOW someone does it. So also list skills that you have developed and have a talent for.
References: At the end of your CV, you could also include one or two 'references' – these are the names, contact details and job titles of people who can testify that you do have the experience that you say. It should be a person who will give a good and positive report about you, especially if they know you have the right qualities for the job you are applying for.
Don't Forget to Mention Important Details
In all your writing to businesses, your words should picture you as someone who understands that a company is a professional place, with certain rules. In business, a wrong word on a contract, in a commercial, or in technical instructions, can cost you money, customers or even cause an accident. So get the details right!
Run a spell-check and a grammar-check on your documents, and if you're not sure you're using the right word, use the 'thesaurus' or 'dictionary' review tool to check a meaning – and don't just use words you find in a dictionary that 'sound good' if you've never heard or read them before.
If you are writing in your second language and concerned you don't have the right 'business sound, ask a first-language speaker to check your tone and style – there are lots of subtle and cultural differences in languages that only first-language speakers truly know.
Keep it Clear, Keep it You
Take the time and effort to get the details right – they matter. There are hundreds of websites where you can find CV design templates and business writing tips – use them.
And most importantly, make sure that YOU fully understand what you write and that all the details are accurate. If your written application is successful, you'll be explaining your CV and talents during a job interview, so be your same best, true self in writing, as you would be in person.